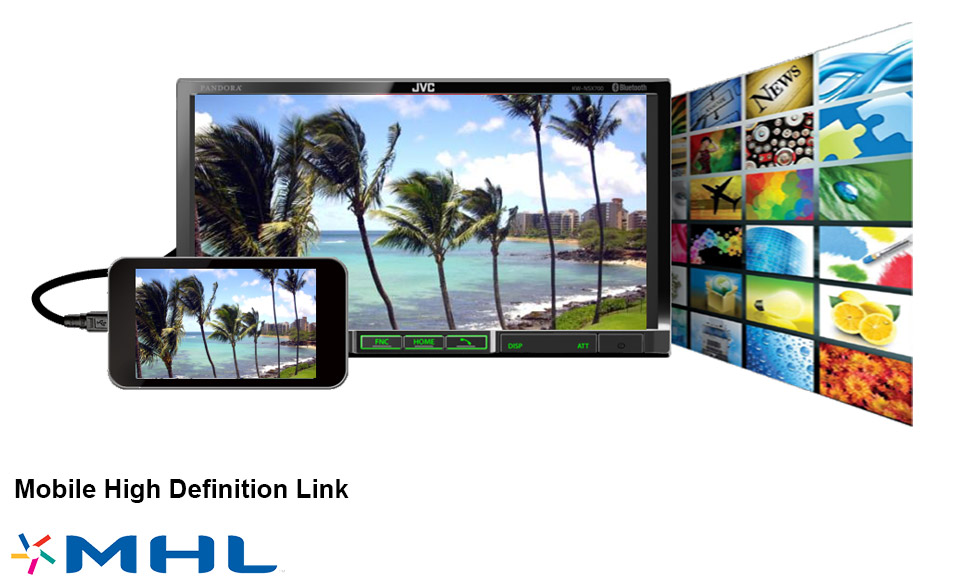 MHL technology lets you view your Android smartphone's screen contents on a connected JVC Multimedia headunit! Once connected, your phone's home screen, all apps, web browsers and video contents can be viewed from the dash of your vehicle.*
MHL replicates your exact smartphone interface display on the JVC receiver screen
Audio from your apps and video is broadcasted through your car's speakers
MHL connects to your smartphone using one simple MicroUSB cable/connection.**
*Users must agree to the JVC Multimedia Receiver's on-screen terms and conditions before use of MHL function. Compatibility with MHL technology depends on smart phone device.
**Some receivers require an additional adapter offered from Samsung.
Please click here for more info»
Compatible Headunits and Phones
MHL is a technology standard developed by some of the top smartphone and consumer electronics manufacturers in the world – Nokia, Samsung, Silicon Image, Sony and Toshiba. These and many other cell phone manufacturers are now including MHL capability in their most recent smartphone models.
Click the following link to see all MHL compatible smartphone devices. New models are added every month.
The following JVC In-Dash Multimedia receivers are MHL compatible Click the following link to view JVC's MHL Compatible Receivers.
To find out more on the benefits of MHL technology, visit: www.meetmhl.com »